During the first world war, McGeoch's business was almost entirely devoted to Government contracts for electrical and general equipment, particularly those from the admiralty, for whom the company was making many standardised electric light fittings, watertight plugs and sockets, switchboards, control panels, switchgear, ironclad distributing boards and more general items of builders' hardware and ships' brassfoundry.
A combination of careful management and expertise in the manufacturing processes ensured maximum production at the Warwick Works in Birmingham while the Glasgow warehouse, in addition to its usual role as a distribution centre for the Clyde shipbuilding industry and that of Scotland in general, stepped up its workshop production of cargo connection boxes and one or two other items of more general and sometimes diverse hardware. These included a range of coathooks, boathooks and, on one particular occasion, a shepherd's crook for a Hebridean Crofter!
With huge losses in the principal merchant navies of the world to be made good when peace came, by 1919 orders were being placed for new tonnage by all the leading shipping companies. These included Cunard, White Star, Canadian Pacific, Anchor, Donaldson, British India and Red Star.
The race for the Blue Ribband of the Atlantic held by the 'Mauretania' since the sinking of the 'Lusitania' in 1915, was at full steam again and Cunard's favourite yard, John Brown, who were building 'Acquitania' when war broke out, were soon adding to their fleet with 'Franconia' in 1923 followed by 'Alaunia' in 1925. Oddly enough, Cunard's first post-war ship, the 'Lancastria' (1922), was not built by John Brown but by William Beardmore who enjoyed a period of great success during the following decade and which resulted in an interesting series of contracts for McGeoch. Between 1922 and 1925, McGeoch supplied many of the fittings that went into the magnificent public rooms and luxurious cabins of those ships.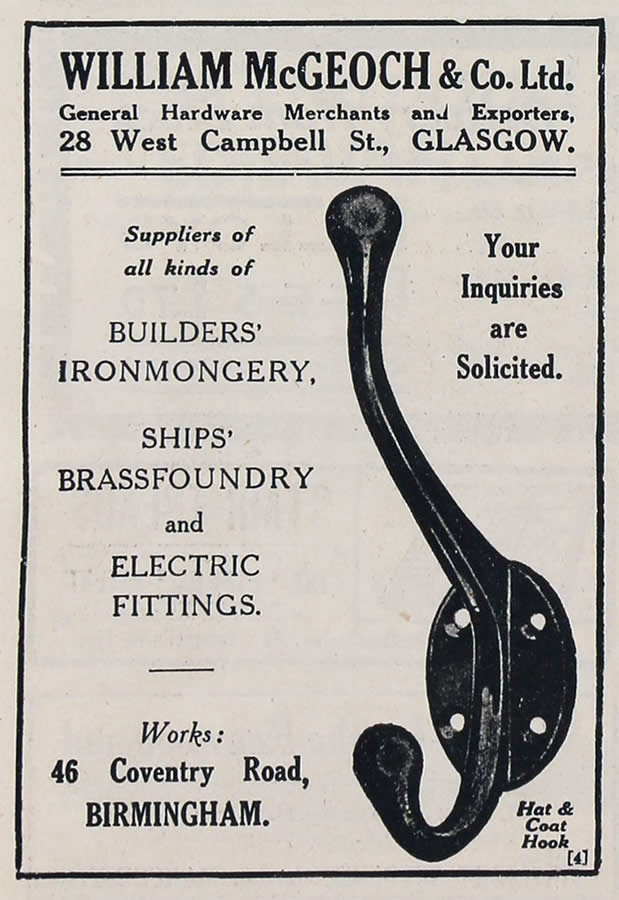 Top: A magazine advertisement for McGeoch Ironclad Distributing Boards, circa 1922. Above: A magazine advertisement highlighting McGeoch's ability to supply builders' ironmongery as well as ships' brassfoundry and electric fittings, circa 1921.
'Lancastria' was launched in 1920 as 'Tyrrhenia' by William Beardmore on the River Clyde for Anchor Line, a subsidiary of Cunard. She was the sister ship of 'RMS Cameronia' that Beardmore's had built for the same customer the previous year. 'Tyrrhenia' was 16,243 gross register tons, 578 feet (176 m) long and could carry 2,200 passengers in three classes. She made her maiden voyage, Glasgow – Quebec City – Montreal, on 19th June 1922.
In 1924 she was refitted for two classes and renamed 'Lancastria' after passengers complained that they could not properly pronounce 'Tyrrhenia'. She sailed scheduled routes between Liverpool and New York until 1932, and was then used as a cruise ship in the Mediterranean Sea and Northern Europe. With the outbreak of the Second World War she carried cargo and was then requisitioned in April 1940 as a troopship, becoming 'HMT Lancastria'. After several other operations, she was sunk on 17th June 1940 off the French port of St. Nazaire while taking part in Operation Ariel, the evacuation of British nationals and troops from France, two weeks after the Dunkirk evacuation.